The ThermoProfilScanner can be used to record welding irregularities from the temperature field of the welding seam that is solidifying but still glowing. Since the characteristics of the temperature field and the seam quality are directly correlated, seam irregularities such as weld penetration, offset, holes, etc.) can certainly be detected. ThermoProfilScanner is a part of the WeldQAS monitoring system.
ThermoProfilScanner is an optical thermal field measuring device that records the temperatures on a line up to 400 times per second. The patented design is characterised by the thermal field camera, has a glassless construction and is suitable for permanent use near welding processes. A slot (18*1 mm) is used for measurements; this slot closes automatically when the shielding gas is not supplied. Owing to these prerequisites, it is possible to conduct an applied thermography test for the cooling welding seam.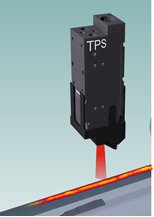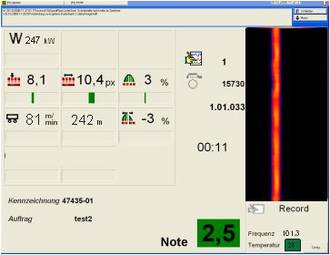 ThermoProfilScanner has become especially important for welding method (high frequency induction, TIG, plasma, laser) used in seamless pipe production; it has replaced eddy current testing to a large extent.
This system opens up new avenues of detecting welding irregularities even in case of non-continuous production processes. It detects welding irregularities immediately and allows a weld penetration check which surpasses the visual inspection of seam surfaces (e.g. laser scanning).
Image on the left: work monitor of the monitoring system
WeldQAS during the thermal field measurement
Application examples of seamless pipe production